What happens if you eat raw spinach while pregnant? Good things!
Spinach helps your baby develop a healthy brain and nervous system. It also helps you keep cholesterol balanced and boosts your mood.
Is spinach good during the first trimester?
Spinach has a lot of folates, also known as folic acid or vitamin B9. Therefore, if you're planning on getting pregnant, it's smart to start eating spinach ahead of time. Then, continue eating it throughout your pregnancy, especially during the first trimester. Folic acid helps your baby's spine and neural tubes in the brain form properly (1).
What are the important nutrients in spinach?
But folate isn't the only benefit of eating spinach during pregnancy. It also contains iron, calcium, vitamins, and minerals that help your baby's development and keeps you strong, too (2).
One serving of raw spinach (about 3 ½ ounces) has only 23 calories and offers:
2 grams of fiber for heart health and digestion
Almost 3 grams of protein for muscles
Vitamin C for beautiful skin and a protective immune system
Calcium for bones
Vitamin K1 for blood clotting
Vitamin A, zeaxanthin, and lutein for good eyesight
Iron for hemoglobin to oxygenate the body
Folic acid for the baby's development
The antioxidant kaempferol that prevents cancer
Quercetin, another antioxidant, that reduces inflammation and infection
It's amazing that such a simple plant provides so much.
365 by Whole Foods Market, Organic Baby Spinach Salad Bag
Did you know that baby spinach has more folate (folic acid) than mature spinach? If you can choose, get fresh baby spinach for maximum nutrition.
But is bagged spinach safe during pregnancy? Maybe.
Even though fresh spinach comes pre-washed in a bag, it's a good idea to rewash it before making salad or smoothie with it.
Why? It's because of listeria and other microbes that might escape the best sanitization efforts at the food plant. Then those germs have a chance to multiply in the humid environment of the sealed bag.
But if you take the time to clean the leaves before you use them, you lower your risk of catching a disease that could seriously harm you and your baby. Listeria can lead to miscarriage and stillbirth and can make you very ill. So can salmonella, E. coli, and so on. It's inconvenient, but if you won't be cooking the fresh spinach, it's smart to wash it again.
If you use hypochlorous acid, it kills the microbes completely.
BRIOTECH Sanitizer + Disinfectant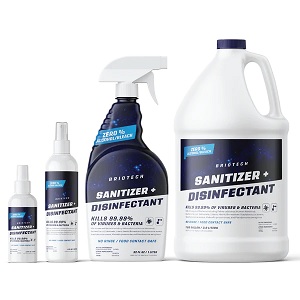 Hypochlorous acid, also known as HOCl, is the world's safest disinfectant. It exists in the human body where it's used to kill off invading germs. Plus, medical professionals use it to irrigate injuries and the food service industry sanitizes surfaces with it.
Why haven't you heard much about it? Well, it's hard to keep fresh for more than a few weeks. It has to be protected from high temperatures and light to maintain its germ-fighting ability.
It's a little like bleach – you'll notice the slight chlorine scent – but it's not harsh on the skin and won't fade dyes. Bleach is alkaline but HOCl is slightly acidic or neutral similar to skin.
You can use hypochlorous acid to wash fresh spinach and other vegetables and fruits and it will kill 99.99% of all bacteria and viruses that it touches. Still, it doesn't harm people or food or change the flavor. Some moms even use it to disinfect pacifiers and baby toys because it doesn't need rinsing. You can also use it as a hand sanitizer instead of alcohol and clean the house with it.
Spray your spinach with hypochlorous acid, wait a few seconds, and toss them in the blender to make this delicious smoothie:
Fresh spinach smoothie
1 cup of baby spinach leaves
1 cup of yogurt (plain, vanilla, or lemon)
One half avocado
1 cup of fruit (citrus fruits like mango, orange, or pineapple)
Half a teaspoon of freshly grated ginger
1 cup of plant-based milk (coconut, almond, etc.)
Feel free to add kale or other greens that you enjoy.
Benefits of spinach during pregnancy
Lots of people associate spinach with strong muscles because of Popeye. But there are many other benefits specifically for mamas and babies.
Eating spinach while you're pregnant can boost your mood because spinach has lots of vitamin B. If you have plenty of vitamin B, you'll likely feel less stressed and anxious.
Vitamin B or folic acid also helps the baby with her cognitive and spinal development and it prevents miscarriages. Plus, it has lots of iron for healthy blood cells that transport plenty of oxygen to the womb. Iron also prevents anemia.
Milk is good, but not everyone likes it or can drink it. Thankfully, spinach is a good source of calcium for strong bones and teeth.
In today's world, boosting your immunity is essential. Spinach helps with that because it provides a significant amount of vitamin C and the fiber it contains helps with digestion and prevents constipation, too (3).
Sit down with your nutritionist or OB/GYN and we bet they can give you an even longer list of spinach's benefits. And if you get tired of spinach, remember that other leafy greens like kale, broccoli, and Brussels sprouts are also packed with nutrition for pregnant women.
How to eat spinach during pregnancy
Maybe when you think of spinach, you think of salad. Maybe you've had a spinach smoothie before or put some leaves on a sandwich. Many people have eaten cooked spinach as a mushy side dish to whatever else was on their dinner plate. But those aren't the only options.
You can also enjoy spinach in lasagna or cannelloni. You can bake it in a pot pie or make soup with it. Go to a site like All Recipes and search for ideas using spinach as an ingredient. The results are overwhelming. People even make spinach cookies!
There are endlessly creative ways to eat spinach when you're pregnant. But here are the most important rules: wash it before using it and cooked is safer than fresh. That's because cooking spinach kills the germs that could make you and your baby sick.
It's not always easy or cheap to find spinach in the off-season, so stock up on canned or frozen spinach as these are also nutritious options.
Remember that you only need one-half cup to 1 cup of spinach per day. That's easy to include in a single meal.
How much spinach should I eat a day while pregnant?
Can spinach cause miscarriage? On its own, spinach is highly unlikely to cause miscarriage. You'd have to eat an enormous amount to end up with side effects.
Eating too much spinach might lead to constipation and bloating, diarrhea, and kidney stones (4).
Also, excessive amounts of spinach would flood your body with too much vitamin K1 which can cause blood clots.
How much spinach is too much? It's tough to say, so you should probably ask your doctor. We've heard that a half-cup of cooked spinach or a full cup of fresh spinach is plenty, especially if you're already taking prenatal vitamins (5).
Happy Belly Spinach, Chopped, Frozen
Frozen spinach like this doesn't need to be thawed before you cook with it. It can stay in your freezer for longer than fresh spinach will last in your refrigerator. And a single bag provides almost 4 servings.
If you live in an area where you can get Amazon Fresh deliveries, you're in luck. This is an affordable Amazon brand that comes right to your door. It's also backed by a satisfaction guarantee for up to a year after you purchase it.
Sprinkle some frozen spinach in your omelet or lasagna for a nutritious boost. It works even better if you press out the excess water before tossing it in the pan.
Del Monte Canned Fresh Cut Leaf Spinach
The easiest way to enjoy a half cup of cooked spinach during pregnancy is to use canned spinach. Del Monte is a brand that everyone recognizes. They pack the spinach in BPA-free cans with water and sea salt to keep it fresh.
Drain the excess water if you'll be using it to spice up grilled chicken or Italian food. It's even tasty as a side dish with a little salt and pepper or balsamic vinegar.
Spinach omelette recipe for expectant mamas
Take advantage of the frozen, fresh, or canned spinach you have on hand and try this delicious omelet:
1 cup chopped fresh spinach leaves or a half cup of frozen or canned spinach, drained
2 eggs
3 tablespoons of skim milk or unsweetened almond milk
2 slices of your favorite cheese
One-half tomato, diced
Salt, pepper, and a sprinkle of thyme or basil
Tablespoon of cooking oil (olive, etc.)
Put the oil in the skillet and heat it on medium-high. Meanwhile, beat the eggs with the milk then add tomatoes, spinach, and seasonings and stir gently.
Pour the mixture into the pan and let it set for 2 minutes. Lay the cheese slices on top of one side and carefully fold the omelet over top. Allow it to cook while the cheese melts for about a minute.
Mother Earth Products Dehydrated Spinach
Do you feel guilty when you have to throw out spoiled food? This dehydrated spinach can be stored for up to 25 years! You can use it as an emergency food supply, for camping, and for cooking day-to-day. It doesn't need to be refrigerated or frozen. To keep it fresh, keep the jar closed and leave the moisture absorber packet in it until the jar is empty.
The spinach is freeze-dried to preserve all of its natural nutrition. The only thing that's been eliminated is the water, so you'll need to add water to it to rehydrate it depending on what you'll be cooking. However, there's nothing wrong with munching on it right out of the jar!
So, what do people do with dehydrated spinach? You can add it to virtually anything – meatloaf, soups, salad, smoothies, dips… Pretend it's parsley or rehydrate it properly and eat it as a side dish for your macaroni and cheese. A half-cup of dried spinach becomes a one-cup serving when it's mixed with water.
Spinach dip recipe
Here's a handy way to try out freeze-dried spinach. It's easiest to make if you have a blender.
1 cup of low-fat sour cream or plain Greek yogurt
½ cup of Hellmann's mayonnaise
½ cup of your favorite nuts (walnuts are packed with omega-3 fatty acids – good for mama and baby)
1 cup of fresh spinach (½ cup dehydrated spinach reconstituted with water) (can also use frozen or canned spinach)
One-half red onion (unless it causes you heartburn)
One packet of vegetable soup mix, dried
Blend all the ingredients in a food processor or blender and enjoy with whole-grain chips.
Conclusion
Yes, you can eat raw spinach when you're pregnant. It's packed with nutrients that you and your baby need. Adding green, leafy vegetables to your diet is a bonus for both of you.
Take care when eating raw spinach to wash the leaves before using them in a salad or sandwich. This is true even if you've purchased pre-washed spinach. It may be a little extra hassle, but it protects you and the little one in your womb.
Otherwise, cooking will kill any harmful microbes hiding out in the spinach. That means you can enjoy raw spinach in cooked food, too. Just a half cup per day provides an astonishing amount of vitamins and minerals for you and your baby's good health.
If you have any questions, don't hesitate to talk to your OB/GYN, doctor, or nutritionist. Chances are they'll have tasty spinach recipes to share with you as well.
Sources:
1. https://www.webmd.com/baby/pregnancy-myths-dos-donts#091e9c5e800367ba-2-7 Pregnancy Myths, Dos, and Don'ts, by Star Lawrence, reviewed by Jennifer Robinson, MD on August 22, 2021
2. https://www.healthline.com/nutrition/foods/spinach Spinach 101: Nutrition Facts and Health Benefits
3. https://www.pregnancyfoodchecker.com/spinach-pregnant-good-raw-dips/ Spinach While Pregnant: Is it Good? Raw, Dips, and More, by Gina Waggott, Certification on Nutrition and Lifestyle during Pregnancy from the Ludwig Maximilian University of Munich and a Diploma in Human Nutrition
4. https://parenting.firstcry.com/articles/is-it-safe-to-consume-spinach-during-pregnancy/ Is It Safe to Consume Spinach During Pregnancy? by Mrunal , published June 21, 2018
5. https://www.healthyparentshealthychildren.ca/app/uploads/2018/11/Eating-during-pregnancy-recommended-servings.pdf Eating during pregnancy – recommended servings per day, Alberta Heath Services