Prenatal vitamins are helpful but they can't replace a healthy diet. You're literally eating for two (or more) when you're expecting. You need the right balance of nutrients for your baby and yourself. So, what are the best foods to eat when pregnant?
Our advice is for you to sit down with your OB/GYN or nutritionist to review what your body and your baby need. After all, it varies throughout the pregnancy. Take calories, for example. You only need about 300 extra during the first trimester but this increases by the third trimester.
It's helpful to go over meal plans with your doctor. You might ask questions like what are the best vegetables to eat during pregnancy and what foods should you eat every day while pregnant.
In the meantime, we'd like to provide a little inspiration to get you started. Let's start with pregnancy superfoods.
Pregnancy superfoods
Adults insist that children eat green, leafy vegetables. There's a very good reason for that. Plants like spinach and kale are vitamin-packed yet low in calories. It's not just the fiber they contain that keeps things running smoothly. It's also the wide variety of nutrients that your body and your baby's body use for everything from eyesight to heart health and brainpower.
We wouldn't be at all surprised if your doctor suggested that you eat a cup of spinach or kale each day while you're pregnant.
What foods should I eat during my first trimester?
Start with green leafy vegetables like spinach, kale, broccoli, and Brussels sprouts. They contain a lot of folate – otherwise known as folic acid or vitamin B – and that's great news. Experts recommend that expectant mothers get at least 600 µg of folate each day during pregnancy so that their baby has a healthy brain and nervous system (1).
Just half a cup of boiled spinach offers 131 µg of folate and fresh baby spinach has even more than that.
Taylor Farms Baby Spinach
We love baby spinach because it's not bitter like mature spinach. The little leaves are just the right size for salads and smoothies, too.
Baby spinach is even more nutritious than mature spinach. It's an excellent source of folate and vitamins A, K, and C.
But is bagged spinach safe during pregnancy? It comes pre-washed, but because of nasty little germs like listeria, salmonella, and E. coli, it's smart to wash the leaves one more time before you eat them. Even the most conscientious food manufacturers occasionally have to recall a batch that's contaminated. Any of those diseases can make you and your baby very ill or even cause a miscarriage. The little bit of extra effort required to rewash the leaves is more than worth it.
If you want to be extra sure that your fresh vegetables and fruits are safe, use a safe, non-toxic disinfectant like hypochlorous acid to rinse them.
However, if for some reason you can't wash the spinach, if you cook it by boiling or baking, you'll kill the germs all the same.
What is the most important food to eat while pregnant?
Protein is essential and so are omega-3 fatty acids. You can get the former from lean meat, nuts, and some plants. The latter comes from seafood and nuts and plants.
However, seafood is tricky during pregnancy. Shellfish like oysters can be downright dangerous and sushi is off the table completely for at least 9 months. Even certain types of fish should be avoided (like albacore tuna) because they have high levels of mercury that can harm your baby.
On the bright side, wild-caught salmon is a safe choice. You can eat up to 3 servings per week to get omega-3 fatty acids, vitamins E and D, and iodine.
Chicken of the Sea Pink Salmon
Avoid mercury poisoning by switching to salmon while you're pregnant. Fatty fish like salmon is full of omega-3 fatty acids that boost your mood and help your baby's eyes and brain develop. You need about 2 to 300 mg of DHA omega-3 each day.
Salmon is also protein-rich with approximately 17 grams for every 3 ounces of fish. Lastly, it has a significant amount of vitamin D for a responsive immune system and strong bones.
If you're struggling with morning sickness, you might not appreciate the smell of cooked fish. Try this delicious ready-to-eat salmon instead. Grill it on a sandwich, sprinkle it on a salad, or have it alongside steamed veggies and basmati rice.
Chicken of the Sea sells it in natural and flavored versions like cracked pepper and lemon chive. All of them are MSC-certified for ocean sustainability.
Which foods have the most calcium for pregnancy?
Milk is the first thing people think of when it comes to calcium but it's not the only option. You don't need cow's milk to get your daily value. Cheese and yogurt have plenty of calcium and so does plant-based milk, especially if they are fortified. When you eat enough calcium, you help your baby build sturdy bones and also protect your own.
Did you know that a cup of yogurt can have the same amount of calcium as a cup of milk? Moreover, yogurt also has lots of protein, vitamin B, and iodine. We've met lots of moms who say that yogurt helped them get through the worst days with morning sickness. It might be due to the probiotics that help digestion and prevent yeast infections (2).
You'll need about 1000 mg of calcium per day and you can get it from dairy sources like yogurt, kale, broccoli, and fortified breakfast cereals.
365 by Whole Foods Market, Greek Plain Non-Fat Organic Yogurt
For the most benefits, steer clear of sweetened and flavored yogurt while you're pregnant. You don't need the added sugar. It's healthier to add fresh fruit to the yogurt. You can also use yogurt in smoothies, mix it with granola, or replace sour cream or mayonnaise with it.
A ¾ cup serving of this thick and creamy non-fat Greek yogurt has 100 calories with no saturated or trans fat. It boosts your immune system and digestive system with active cultures like acidophilus and bifidus. Plus, it offers 16 g of protein and 190 mg of calcium.
If you're vegan, explore options like soy yogurt and try non-dairy plant-based milk that also supplies protein and calcium.
Pacific Foods Organic Almond Non-Dairy Beverage
Did you know that you could make almond milk at home with only almonds and water? Soak the almonds and run them through the food processor with water – it's that easy. But it's true that manufactured almond milk tends to be creamier and usually comes fortified with extra vitamins. Furthermore, homemade almond milk doesn't stay fresh for more than a couple of days. But commercial almond milk can stay fresh in the fridge for a week or more after opening.
We like the Pacific Foods organic almond milk because it comes in shelf-stable BPA-free cartons that can sit in the pantry for months before they are opened. Not only does it save space in the refrigerator, but it also allows us to stock up.
What's nice is that it tastes fresh and has a pleasant texture so it's perfect for putting on cereal and can be used for baking and cooking, too. Instead of added sugar, it has a touch of vanilla extract. Plus, it's fortified with vitamin D, low-calorie, low-fat, and low-carb.
What essential nutrients are beneficial in pregnancy?
It's important to have enough folate and calcium, but did you know that vitamin D is crucial? Without it, calcium can't do its job. You need 600 IU of vitamin D each day and you can get it from fortified juice and milk, fish, and eggs.
During pregnancy, you also need about double the amount of iron as you usually would. Without enough iron, there won't be enough blood cells to transport oxygen to the baby.
Iodine is essential for your baby's nervous system and brain. You only need a small amount – 290 µg per day – so a little table salt, eggs, and dairy products provide plenty.
Then, there's choline and you need 450 mg of that to prevent neural tube defects as your baby develops. You can get choline from salmon, beef, chicken breast, and nuts.
Cashews Dry Roasted & Unsalted Organic, 365 by Whole Foods Market
Nuts are good to eat during pregnancy because they give you and your baby choline, magnesium, iron, zinc, and potassium. For example, a single serving of these organic cashews provides 80 mg of magnesium for you to have energy and a good mood.
Cashews taste sweet naturally, especially when they've been dry roasted like these. They make for a nice snack in the midmorning or mid-afternoon when you need a boost. One serving has 170 calories plus a good amount of protein but hardly any fat or sugar. They taste great on salads, in cereal, and all by themselves.
What are the best snacks during pregnancy?
Pregnancy cravings aren't just the stereotypical pickles and ice cream. Many women long for sweet and salty foods with little nutritional value. Thankfully, there are many delicious natural snacks that can satisfy cravings while improving your diet.
JUJUME Organic Jujube Superfood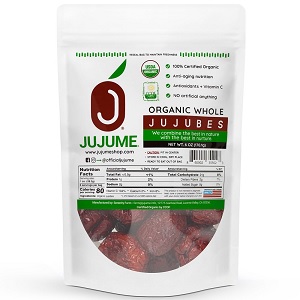 If your sweet tooth is screaming for attention, try eating fruit. Jujube, a little-known superfood from the Middle East, is juicy and sweet with a flavor reminiscent of caramel. It has lots of vitamin C and nutrients that prevent premature aging.
More importantly, it has an almost magical quality. A study found that moms who ate jujube fruit had significantly less heavy metal in their breast milk (3).
Now, you don't have to travel to Iran to find jujube fruit. It's grown organically in California and packaged with no additives whatsoever.
While we're on the theme of healthy snacks, most kinds of dried fruit (without added sugar) are excellent for when your blood sugar is dropping and way better than eating candy. Dried berries are easy to carry around and they make pretty much everything taste better, from salads to cereal and yogurt. You can even dunk dried fruit in peanut butter.
Honestly Cranberry – Unsweetened Dried Cranberries
Cranberries are naturally anti-inflammatory and full of antioxidants. Not only do they guard against urinary tract infections, but they also help eyesight and make for a stronger heart and immune system. Eating cranberries can help prevent tooth decay as well.
Just don't overdo it because cranberries are so nutrient-rich with calcium that overdosing on them can lead to kidney stones and lower your ability to clot blood. Limit yourself to a serving a day and treasure every moment because these particular cranberries are really good. They are soft and fresh and surprisingly sweet even though they are packaged with no additives at all.
More good foods to eat when pregnant
If you're in the mood for a hamburger, that's not a bad thing. Choose ground beef with less than 15% fat because lean meat is full of the protein and iron you need right now. Be sure to cook it until it reaches an internal temperature of 165°F to make sure you kill disease-causing bacteria.
Then, if you're vegan, vegetarian, or simply choosing to eat less animal protein, you can still get the nutrients you need from iron-rich and protein-packed plants like lentils. Black lentils, for example, protect against your baby having conditions like spina bifida.
If you'd love to have some guacamole, go for it. Avocado is full of monounsaturated fats that allow the body to absorb all those crucial vitamins and minerals in other foods. And since avocado is high-fat, it keeps you feeling full for longer.
Like us, if you hate feeling under the weather, try red bell peppers and mangoes as they have lots of vitamins A and C. Peppers also have a lot of fiber as do oats. Fiber prevents constipation and anyone who's been pregnant can tell you how important that is.
Finally, remember to drink plenty of water. Water helps deliver nutrients to your baby and has a ton of benefits for you, the mama. We know it's hard when you have to pee a lot, but keep sipping because you need to drink at least eight 8-ounce glasses each day.
Conclusion
We wish you and your baby lots of health and happiness. Use this time to improve your diet with all the best foods and you'll thank yourself later.
Sources:
1. https://www.whattoexpect.com/pregnancy/eating-well/week-11/big-nutrition-small-packages.aspx 18 Best Foods to Eat During Pregnancy, by Marygrace Taylor, medically reviewed by Alexandra Paetow, M.S., R.D.N. on April 26, 2022
2. https://www.mayoclinic.org/healthy-lifestyle/pregnancy-week-by-week/in-depth/pregnancy-nutrition/art-20045082 Pregnancy diet: Focus on these essential nutrients, by Mayo Clinic Staff
3 Kelishadi R, Hasanghaliaei N, Poursafa P, Keikha M, Ghannadi A, Yazdi M, Rahimi E. A randomized controlled trial on the effects of jujube fruit on the concentrations of some toxic trace elements in human milk. J Res Med Sci. 2016 Nov 7;21:108. doi: 10.4103/1735-1995.193499. PMID: 28250785; PMCID: PMC5322685.