What to do if you think you have listeria when you're pregnant? Contact your doctor and get treatment as soon as possible. Don't delay because listeriosis (listeria infection) can be life-threatening for you and your baby.
What are the symptoms of listeria? The most common ones are diarrhea, nausea, muscle aches, and fever. If you have a high fever, stiff neck, severe headache, sensitivity to light, or confusion, get medical attention immediately.
What is listeria?
Listeriosis is an illness caused by the bacteria Listeria monocytogenes that live on contaminated food or water, soil, and animal feces.
It affects pregnant women, unborn babies, infants, people with compromised immune systems, and the elderly the most. On the bright side, getting antibiotic treatment as soon as possible can save your life and the life of your baby. It can also reduce the symptoms (1).
How common is listeria in pregnancy? It doesn't affect everyone but it happens more often than we wish. The main problems are that listeriosis has a long incubation period and the bacteria that cause it are hard to kill. Once you're exposed, the bacteria bide their time for up to 30 days or longer before they make you sick.
What are the causes of listeria?
On the bright side, although listeria bacteria survive freezing and refrigeration, cooking kills them. That's why your doctor has told you to avoid deli meat and unpasteurized milk, cheese, and yogurt. Before you eat that bologna sandwich or hotdog, think twice. If you can't toast it properly, don't eat it.
Moreover, raw vegetables and fruits can be contaminated with listeria which is why they need to be thoroughly washed. It's safer if they can be cooked before eating.
What are the first signs of listeriosis?
The initial symptoms of listeriosis in pregnancy can be mistaken for other illnesses like the stomach flu. To play it safe, if you have diarrhea, fever, headache, or stomach upset (outside of any morning sickness you've experienced), contact your doctor and get assessed. This is crucial if you know that you've been exposed to listeria. For example, every once in a while some food manufacturer or other will issue a recall for contaminated products. Even if you don't know that you've been exposed but you've been eating cold sandwiches, sushi, or raw fruits and vegetables that haven't been properly washed, take that into consideration.
It's better to be extra cautious while you're pregnant. Even if your symptoms are mild, your baby's life could be at risk in the womb. Listeriosis can cause stillbirth, miscarriage, premature birth, or a fatal infection after birth.
How to test for listeria in pregnancy?
When you seek medical attention, you'll probably be asked about your symptoms and how you think you might've been exposed. They may also do a blood draw or a urine test as well as check your temperature and blood pressure. In a few cases, you may have to have spinal fluid drawn.
How quickly can listeria affect a fetus?
Listeria can affect a fetus immediately because it enters the bloodstream and passes through the placenta (2).
Don't delay getting treatment if you become ill. Listeriosis can cause lifelong disabilities for your baby if the baby survives (3).
How do you treat listeria symptoms?
Is there a home remedy for listeria? Unfortunately, no, because it requires antibiotics to treat listeriosis.
But once you're receiving medical attention, you can treat the symptoms. Since listeria causes headaches, fever, and diarrhea, it's a good idea to rest and sip fluids. Put a cool cloth on your forehead and try to take a nap. When you eat, keep the meals small and avoid spicy, greasy, or sugary foods.
Liquid I.V. Hydration Multiplier
Listeriosis triggers diarrhea and fever so it causes dehydration. Water helps rehydrate the body, but this listeria treatment is even more effective. If it's okay with your doctor, take an electrolyte supplement like this drink mix. It's similar to Gatorade without the unnecessary additives.
The electrolyte drink mix comes in various flavors like lemon-lime. It's packaged in single serving packets that you stir or shake into 16 ounces of water.
It's fortified with B vitamins and vitamin C plus the necessary sugar and salt to help your body find balance and absorb the water it needs. Happily, it contains no gluten, soy, or dairy.
How to avoid listeria during pregnancy
There are 3 straightforward ways to avoid listeria:
Clean it
Cook it
Check it
Clean fresh fruits and vegetables with plenty of running water, or better yet, use a sanitizer like hypochlorous acid (HOCl). Also, scrub food preparation surfaces and utensils and your hands before and after cooking.
Next, cook egg and meat dishes as well as anything with sprouts. Avoid soft cheese like Camembert or queso fresco and don't eat hotdogs or deli meat unless they've been cooked until they are steaming hot.
Finally, check temperatures to ensure that the bacteria don't have a chance to multiply. Use a cooking thermometer to probe the middle of the food you cooked and make sure it's done. Also, place thermometers in the refrigerator and freezer to see if the temperatures are correct.
So, what are the right temperatures for storing food to prevent listeria infections? (4)
Keep your fridge at 40°F (4°C)
Maintain the freezer at 0°F (- 18°C)
You can easily verify the temperature by putting a thermometer in the middle of the space and leaving it and adjust overnight. Check it in the morning and adjust the temperature higher or lower if needed. Leave the thermometer again for at least 5 hours and confirm that you've hit the sweet spot.
Other simple tips for preventing foodborne illnesses like listeria
Store foods in airtight containers and eat them by the "use by" date
Wipe up spills in the refrigerator immediately
Use separate cutting boards for meat and fruits/vegetables
Use a food thermometer and make sure chicken reaches 165°F, steak reaches 145°F, and ground meat reaches 160°F
Cook eggs until the yolk is firm
If you have the right tools at home, all of this stuff is a lot easier. Here are our top picks for a safe and healthy kitchen:
Taylor Precision Products 5924 Large Dial Refrigerator and Freezer Thermometer
Do like the restaurants and play it safe. These inexpensive thermometers can sit in your freezer or refrigerator. They never need batteries.
With them, you can tell at a glance if your food is stored at the proper temperature to prevent listeria from multiplying.
The thermometers are certified to National Sanitation Foundation standards and they come with a one-year warranty.
Alpha Grillers Instant Read Meat Thermometer
Every person who cooks should have a food thermometer. This one is labeled as a digital meat thermometer but it has a wide range of temperatures it can measure, from -58°F to 572°F. In other words, you can use it for baking, barbecues, and making candy, not just checking the doneness of your hamburger.
It runs off two CR2 coin cell batteries which are cheap and easy to find. (Two of them come in the package.) To use the thermometer, just pull open the probe and stick the tip in the middle of the food you checking. The reading appears within two to three seconds. There's even a backlight on the display.
It just so happens that this is the same thermometer we use at home to see if the slow cooker has finished. When it arrived, we checked it by holding it against ice cubes and also dipping it in boiling water. Both times, the reading was accurate. Nevertheless, the thermometer can be recalibrated with a simple process explained in the instructions.
Bamboo Cutting Board Set
If you've worked in food service, you understand the concept of cross-contamination. It's crucial to have different cutting boards for meat and produce. Furthermore, we are fans of bamboo cutting boards because there's no risk of tiny plastic particles inning up in our food.
Yes, bamboo requires a little extra care. You can't run it through the dishwasher as it must be hand-washed only. Plus, you'll need to oil it every once in a while to keep it in top condition. But every dedicated cook should have food-grade mineral oil on hand and that's all you need to treat the cutting boards once a month.
There are 3 cutting boards in different sizes in this set. Unlike some surfaces, bamboo doesn't dull knives or make horrible clacking noises when you're chopping on it. The boards even have side handles so you can use them as serving trays.
Cuisinart WM-SW2N1 Sandwich Grill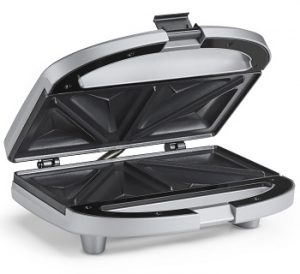 If you cook it to a high enough temperature, you won't have to worry about bacteria in your food. It's hard to give up your favorites when you're pregnant. We craved sushi like crazy. But the small sacrifice is worth it when that beautiful baby is born healthy.
Sandwiches are an easy meal when you're feeling lethargic. But please heat meat and eggs until they are steaming hot to kill listeria and other problematic bacteria. Use a sandwich maker that toasts the food. This one browns both sides evenly and it has nonstick plates to keep mess to a minimum.
It can make sandwiches, French toast, and omelets in a short amount of time. The indicator light will tell you when it's done.
The good news is that Cuisinart uses BPA-free materials. The baking plates are hard anodized nonstick surfaces but you can make cleanup even easier if you like. There are people who wrap the sandwich in parchment paper before placing it in the griller and that prevents spills and overflow.
BRIOTECH Sanitizer + Disinfectant
You can thank the pandemic for this discovery. Although the food service industry has been using hypochlorous acid for decades to sanitize surfaces, ordinary folks didn't have much access to it. HOCl is a cousin to bleach but not caustic or toxic. It won't make colors fade or damage surfaces.
What's interesting is that hypochlorous acid flows in your bloodstream right now. Your body uses it to kill invading microbes. Doctors use it to cleanse injuries. Dentists use it to irrigate gums during root canals. Moms use it to sanitize pacifiers.
That's right, this is the world's safest disinfectant. It's absolutely perfect for cleaning fresh fruits and vegetables before you eat them. It's much better than using plain water as it kills bacteria within seconds. Plus, if you eat it, it won't harm you at all.
Use it to disinfect cutting boards, surfaces, and food preparation surfaces. You can also sanitize your hands with it because it kills bacteria and viruses alike.
You'll notice that the HOCl smells a little bit like a swimming pool. That's because it contains chlorine. But it's pH-balanced to be similar to the skin's acidity.
Although you can actually make hypochlorous acid at home with water, sea salt, and vinegar, BRIOTECH's product is made to exacting standards and has a decent shelf life. You'll still need to store it in a cool, dry place.
Hygiena InSite Listeria Environmental Listeria Test
How do places like Oscar Meyer check that their lunchmeat factory isn't contaminated with Listeria? They use tests like this. It's kind of like using ultraviolet light to find bloodstains.
The swab looks like a pen. Pass it over the surface you want to test and get a sample. Inside, there's a special liquid media with fluorescent compounds that change color if listeria is found in the sample. If it changes from amber to black when there's danger.
On the downside, this is specialized equipment with a price tag that most people wouldn't accept for home use. In the end, it's cheaper to assume that listeria might be lurking on your food and food prep tools and just clean and cook so that you get rid of it.
Conclusion
If you are currently experiencing symptoms of listeriosis like fever, headache, or diarrhea, please get medical attention to protect yourself and your baby.
Rest, rehydrate, and take it easy to recover. Then protect yourself from ever being infected again by cleaning and cooking your food properly and avoiding meals that include unpasteurized dairy, undercooked meat, sushi, and unwashed fruits and vegetables.
Stock your kitchen with the tools you need to stay safe like separate cutting boards and a food thermometer. Your good habits now will continue to make your life easier after your baby is born.
We wish you the best of health and happiness.
Sources:
1. https://www.mayoclinic.org/diseases-conditions/listeria-infection/symptoms-causes/syc-20355269 Listeria infection, by Mayo Clinic Staff
2. https://www.whattoexpect.com/pregnancy/pregnancy-health/listeria-during-pregnancy/ Listeria Exposure During Pregnancy, by Sara Novak, medically reviewed by Jennifer Wu, M.D., F.A.C.O.G. on August 9, 2022
https://www.acog.org/womens-health/faqs/listeria-and-pregnancy Listeria and Pregnancy, by the American College of Obstetricians and Gynecologists
https://www.fda.gov/food/buy-store-serve-safe-food/what-you-need-know-about-preventing-listeria-infections What You Need to Know About Preventing Listeria Infections, published March 22, 2018