Are you looking for ways to improve your baby's well-being while you're expecting? Some women have turned to taking saffron, an antioxidant-rich spice. But is saffron safe during pregnancy? Let's discuss its uses, side effects, and more.
What is saffron?
There is a plant called crocus sativus that grows in Iran, India, Spain, and a few other places. Saffron is a spice that comes from the dried stigma of the flower. It looks like red threads.
It's a pricey condiment as each flower only has 3 stigmas and it takes around 14,000 strands harvested by hand to produce a pound of saffron.
What are the uses of saffron?
Saffron is prized for various reasons. For example, it may reduce high blood pressure, improve the heart's function, lower cholesterol, alleviate cramps, treat seasonal allergies, and improve mood by boosting serotonin. No joke, a clinical trial in 2017 showed that saffron seemed to help relieve postpartum depression. Plus, it may help you sleep better at night, especially if you sip on saffron milk.
In traditional medicine, saffron is used to treat digestive issues and heartburn. But that's not all – Ayurvedic medicine recommends saffron for healthier uterine tissue and inducing labor when a woman has reached full term. That's because it stimulates contractions (1).
Lastly, some cultures believe that saffron will help a baby be born with light-colored skin, but there is no scientific evidence to support this conclusion.
What are the side effects of saffron?
Experts and Ayurvedic practitioners both recommend that pregnant women should not consume saffron until after the first trimester once you feel the baby moving. This advice is partially based on cultural taboos as well as a study that investigated miscarriages among saffron farmers.
Although most expectant women seem to tolerate it well, remember that saffron comes from the crocus plant and could trigger an allergic reaction if you have allergies to plants and related families like Olea, lolium, and salsola.
Is saffron harmful during pregnancy?
Other side effects of saffron during pregnancy include causing premature delivery since saffron can cause contractions if taken in large amounts. To play it safe, wait until after the fifth month of pregnancy and only use 2 or 3 strands of saffron to prepare a meal or a beverage. Don't exceed 2 grams per day. Consuming 5 g or more of saffron causes poisoning (2).
Furthermore, saffron may unbalance mood if a person has bipolar disorder. It slows down the central nervous system which can affect how anesthesia works during surgery. It interferes with medications for high blood pressure and diabetes and may intensify sedatives. Weirdly, it keeps caffeine from breaking down so it may increase caffeine's effects on the body.
How many times can I take saffron during pregnancy?
It's best if you consult with your OB/GYN, nutritionist, or family physician before incorporating saffron into your diet during pregnancy. With that said, many expectant women consume saffron as a flavoring in food or with milk or tea daily.
What is the proper dose of saffron for expectant mothers?
Please check with your healthcare provider about the right amount of saffron to take. A ballpark figure would be to stay under 2 grams per day. That's easy to do if you purchase saffron as a spice because it comes in small containers with only two, five, or ten grams. If you only use a couple of strands at a time, you shouldn't be in danger.
However, if you choose to take saffron as a supplement, be very careful. Check the dosage per capsule and only purchase from reputable manufacturers. We included one option in the reviews below. It provides 50 mg of saffron per capsule, well below the 2000 mg/2 gram limit.
Which type of saffron is best for pregnant women?
Saffron is very potent and it only takes a couple of threats to flavor a meal. You might crush and soak the strands for a few minutes in broth, milk, or water before adding it to a recipe. Or you might crumble it directly into salad dressing.
It takes about 15 minutes for the color to leach from the strand into the liquid (If you've chosen high-quality premium-grade saffron).
What's the best time to drink saffron milk during pregnancy: morning or night?
Saffron milk, also known as kesar milk, might help you sleep better and lift your mood. We recommend drinking it before bed unless you're having an especially anxious day and need a treat earlier.
It's straightforward to make: just crush a strand or two and let it soak in warm milk for 10 to 15 minutes. You can also add cinnamon, cardamom, and a little honey or agave syrup.
Is saffron safe during pregnancy?
Why we love them
Zaran Saffron Superior Saffron Threads

High ratings for color, aroma, and flavor
Perfect for cooking and making beverages
Persian saffron grown in northwestern Iran
Available in various sizes
Backed by a satisfaction guarantee

The Gathering of Saffron Brand Saffron

Affordable saffron from Spain
Packed in a 1-ounce metal tin
Ideal for paella, salad dressing, and more

Happy Belly Saffron

Crimson color and earthy flavor
Harvested in Spain and packed in the USA
More affordable than Iranian and Kashmiri saffron
Packaged in a glass bottle just like other spices in the cupboard

Roland Foods Pure Saffron Powder

Powdered dried crocus sativus stigmas
Produced in Italy
Restaurant-quality spice for grilled meats, soups, and pasta
Affordably priced and eligible for SNAP/EBT
Divided into individual packets that each contain one-sixteenth of a teaspoon or a pinch

Organic Traditions Turmeric Latte with Probiotics and Saffron

Instant latte – just add water
Delicious coconut powder base with organic coconut palm sugar
Blends saffron, turmeric, probiotics, ginger, and cinnamon to improve digestion and reduce inflammation
Low-calorie, low-fat, and low-sugar
Dairy-free and caffeine-free

Greenspice, Butter Herb Infused Saffron

Sweet cream butter with Himalayan pink salt and saffron
Rich flavor for spicing up rice, pasta, veggies, and more
No trans fat

Zaffrus - Saffron Infused Honey

Honey produced by bees that feed upon star thistles in northern Michigan
Filtered for purity, then infused with premium-grade saffron
Rich, unique flavor and color
Packaged in recyclable glass

NOW Supplements, Saffron

Made from whole saffron stigmas with a minimum of 10% crocins
Veggie capsules contain 50 mg
Free from gluten, soy, egg, and other allergens
Produced in a GMP-certified facility in the USA
Zaran Saffron Superior Saffron Threads (Super Negin) Premium-Grade
Which saffron is good for pregnancy? We recommend pure saffron like this one that's passed potency tests with flying colors. This brand's saffron has 280+ crocin, 35-40+ safranal, and 95-105+ picocrocin. These are the compounds that give saffron its distinctive color, odor, and taste. With readings like these, it's no wonder that this spice is highly prized for cooking everything from paella to golden milk.
Reviewers say the strands have the proper aroma, appearance, and bitter taste. It's grown in northwestern Iran, so it's also called Persian saffron.
Happily, the brand offers a satisfaction guarantee just in case you decide saffron isn't your thing. Choose from various sizes including 2, 5, 10, and 28 g tins.
The Gathering of Saffron Brand Saffron, Pure Spanish
Spanish saffron is usually less expensive than Kashmiri and Iranian saffron but nearly as aromatic and colorful. It's excellent for seasoning paella, golden milk, salad dressing, and so on.
This particular saffron comes packed in a one-ounce square tin. Reviewers were very pleased with it.
Happy Belly Saffron
It looks like just another spice bottle from your pantry but it comes with a year-long satisfaction guarantee. The glass bottle contains 0.05 ounces of crimson saffron threads harvested in Spain and packed in the USA. It's all stigmas from the crocus sativus plant so it's 100% pure saffron.
Reviewers say it has a good color and earthy taste just as it should.
Roland Foods Pure Saffron Powder
It just so happens that this saffron powder is SNAP EBT eligible. It's produced in Italy where it's popular for seasoning grilled meats, resulting, and pasta. It only takes a little bit to add a beautiful golden color and intense flavor to any dish.
This is a restaurant-quality spice derived from dried crocus stigmas. Keep in mind that the powder is not only more economical but also potentially more potent if you use too much. It takes less effort to work with the powder than it does saffron strands.
The container has just over 2 teaspoons of powder divided into several packets that each contain one-sixteenth of a teaspoon (also known as a pinch).
Organic Traditions Turmeric Latte with Probiotics and Saffron
It's easy to make golden milk but it can get pricey if make it often using saffron strands. An easier alternative would be to enjoy this instant latte that only requires water. It's dairy-free and caffeine-free.
It features turmeric, saffron, ginger, cinnamon, and probiotics for a warm and cozy feeling and improved digestion. The blend may also reduce inflammation to improve your overall health.
It's based on coconut milk powder so it has a creamy texture. Plus, it's lightly sweetened with organic palm sugar for the perfect flavor.
One tablespoon makes a cup of latte with only 40 calories and 5 grams of carbohydrates. It's also low fat and packed with potassium, iron, and calcium.
Reviewers say they like the latte both hot and cold. Some also make smoothies with it.
Greenspice, Butter Herb Infused Saffron
There's nothing like real butter made from sweet dairy cream and Himalayan pink salt. It's boldly flavored with saffron so it quickly turns pasta, rice, and vegetables into a delicious treat. One tablespoon has 100 calories and no trans fat or sugar.
Not to worry, it's pasteurized and packaged in a glass jar for freshness.
Zaffrus – Saffron Infused Honey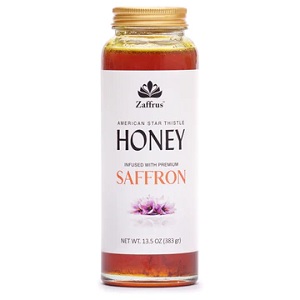 You may have heard that raw honey isn't good when you're pregnant. Thankfully, this is filtered honey that's been heated just enough to get rid of the bad stuff without damaging the flavor. It's made by bees raised on star thistles in northern Michigan.
Once the honey is gathered by certified beekeepers, it's infused with premium all-red saffron for a unique flavor and color. Then it's packaged in a recyclable glass jar.
Reviewers say that the honey has a rich flavor because of the saffron. It's even possible to see tiny bits of the strands suspended in it.
NOW Supplements, Saffron
If it's all right with your doctor, you might benefit from taking a saffron supplement. It's easier than cooking with saffron and potentially more affordable.
These veggie capsules contain 50 mg each and you only need one per day. The saffron is made from the whole stigma, not an extract. It has a minimum of 10% crocins for plenty of potency.
Inside promotes a positive mood and restful sleep. It's also a powerful antioxidant to prevent premature aging and may help improve vision, too.
The American manufacturer is a family-owned company that's been making supplements since the 1960s. Their facility is compliant with Good Manufacturing Processes and they perform extensive testing for purity and safety. Moreover, the capsules are free from gluten, yeast, soy, corn, egg, milk, shellfish, and tree nuts.
Reviewers say that it's very easy to swallow these capsules.
Conclusion
Yes, it's safe for most women to enjoy saffron during pregnancy. However, it's advisable to wait until after the fifth month or after you enter the third trimester before adding it to your diet or supplementing with it.
It's amazing that such a simple spice can have so many wonderful benefits like improved mood, better sleep, fewer cramps, better digestion, and lower blood pressure. It's a versatile addition to any pantry as it can be enjoyed with many foods and beverages.
If you've found that saffron has benefitted your health, we'd love to hear from you. Feel free to leave us a comment below and tell us about your experience.
Sources:
1. https://www.healthline.com/health/pregnancy/saffron-during-pregnancy Is Saffron (Kesar) Safe During Pregnancy? published January 27, 2021
2. https://www.webmd.com/vitamins/ai/ingredientmono-844/saffron Saffron – Uses, Side Effects, and More