Don't feel guilty about your cravings. Science supports you in eating chocolate. Dark chocolate has more antioxidants than either açai berries or blueberries. It has polyphenols that lower bad cholesterol and flavanols that improve heart health. Moreover, dark chocolate during pregnancy lowers the risk for preeclampsia and gestational hypertension (1).
The good news is that eating dark chocolate when you're pregnant is safe for both mom and baby. But how much chocolate is okay during pregnancy?
How much dark chocolate is safe to eat during pregnancy?
When I'm having a bad time, I've been known to eat a large bar of chocolate or an entire bag of truffles in a day. However, that's not smart to do during pregnancy. If you can eat dark chocolate while you're pregnant, do it in moderation.
One study suggested that an ounce of dark chocolate per day increases blood flow to the fetus. One ounce of chocolate is about a quarter of a chocolate bar (1).
If you have a hard time stopping yourself from eating the whole bar or bag at once (guilty!) then divide up the chocolate into smaller portions and store them in snack containers. (Do this when you're not hungry).
Is chocolate safe in early pregnancy?
The study mentioned above took place during the first trimester of the pregnancy. It's always wise to double-check with your OB/GYN, nutritionist, or health practitioner about your diet when you're expecting. Generally speaking, chocolate is safe throughout pregnancy. Just keep an eye on your caffeine intake and diet restrictions.
Benefits of dark chocolate during pregnancy
Eating dark chocolate is beneficial to both the baby and the mother. Not only does it increase blood flow to the developing baby in the womb, but it may also help the baby to have a sweeter temperament. No joke, someone did a study on 300 mothers who ate chocolate. Their 6-month-old infants tended to have a more positive temperament (2).
Meanwhile, you've heard of preeclampsia and gestational hypertension. These are serious conditions that are dangerous for both the mom and the baby. Dark chocolate can help prevent or reduce both illnesses. Plus, it contains essential minerals like iron, copper, and magnesium as well as lots of antioxidants to prevent premature aging. It can boost brain function and mood, too (2).
With all this good news, it's still a good idea to not overdo it.
Side effects of dark chocolate during pregnancy
Nevertheless, there is a dark side to chocolate. Not only does it contain caffeine, but it also adds calories and sugar to the diet. The USDA recommends keeping added sugar and saturated fat to less than 10% of the calories you consume per day. And you and I both know that too much caffeine isn't good for either mama or baby.
If you're gaining too much weight during pregnancy or having trouble with blood sugar (gestational diabetes), the downside of dark chocolate might outweigh the benefits. Consult with your OB/GYN, doctor, or nutritionist to avoid problems.
On the bright side, chocolate doesn't contain all that much caffeine and it's possible to get sugar-free and low-sugar versions. There's even vegan chocolate which is surprisingly tasty.
See which dark chocolate is good for pregnancy. These are our favorites:
Best Dark Chocolate in 2023
GHIRARDELLI Intense Dark Chocolate Bar, 86% Cacao
Chocolate connoisseurs love Ghirardelli. This brand of dark chocolate isn't bitter. Instead, the intense flavor is surprisingly creamy and smooth. Plus, you can choose between extra dark 86%, intense dark 72%, and delicious 60% dark chocolate.
Whichever you choose, these exotically sweet chocolates come with bits of dried plums, dark cherries, or hazelnuts. It's tempting to finish off the whole bar in one sitting, but that's 3 ounces of chocolate. You might find it easier to keep to a healthy diet if you break it into 3 sections or more. Fortunately, the bar is scored so it's easy to section.
FYI, Ghirardelli sources sustainably raised cocoa beans and uses pure ingredients like cocoa butter, vanilla, sugar, and milk.
DOVE PROMISES Dark Chocolate Candy
It was a shock to us that Dove dark chocolate is SNAP/EBT-eligible. We love these creamy dark chocolate squares. It's not just because they come individually wrapped in foil with inspirational messages. It's also because the semi-sweet chocolate itself is addictive! Warning to the wise: take out a couple and hand the bag over to someone you trust to keep it away from you.
Lindt LINDOR 60% Extra Dark Chocolate Truffles
Do you know what the problem is with dark chocolate in the summertime? It may melt during shipping. That's why we stock up on Lindt truffles before the hot weather hits. Dark chocolate is slightly less prone to melting compared to milk chocolate. However, the brand suggests storing them between 60 to 68°F.
These luscious little balls of joy give us a tingly feeling when we eat them. They are incredibly rich and creamy. They come in either 60% or 70% versions in different colored wrappers and we love them both.
This is Kosher chocolate crafted with high-quality ingredients like cocoa butter and vanilla seeds. Translation: they are super yummy and fattening, so it's just as well they come individually wrapped.
365 by Whole Foods Market, Dark Chocolate Peanut Butter Mini Cups
There are two types of people in the world: ones who prefer plain chocolate and those who love chocolate with nuts. (Supposedly, there are also people who don't like chocolate. How is that possible?)
If you love chocolate with peanuts, it's time to put down the Reese cups and try this upgrade. It's from Whole Foods so it meets high standards. What's more, these peanut butter cups have a creamier whipped filling with a fresher flavor than the other brand.
The 4.7-ounce bag comes with plenty of mini cups to get you through the week if you portion them out to a couple per day. They are incredibly rich and definitely not low-calorie. The label lists dark chocolate, cocoa butter, vanilla bean, cane sugar, peanut butter from dry roasted peanuts, whole milk, and other fattening things.
Nassau Candy, Dark Chocolate Peppermint Cremes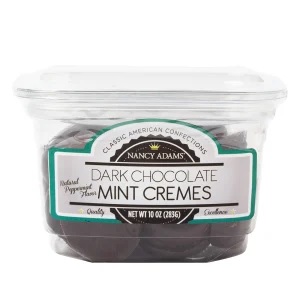 Junior Mints, After Eight, and York Peppermint Patties are good, but these peppermint creams are better. Reviewers agree that these are some of the most delicious candies they've ever had.
They have an intensely dark chocolate exterior over a creamy, extra-peppermint filling. There's no bitterness here, just pure pleasure. If peppermint helps with digestion, then you have a ready-made excuse to enjoy these after meals.
It's not surprising how good they are because they are made with pure ingredients and no additives. What's interesting is that the cream inside is based on white chocolate – no wonder it's so amazing.
The individual candies come packaged in a 16-ounce container so you won't run out for a little while.
Theo Chocolate Vegan Organic Dark Chocolate Bar, 70% Cacao
There's nothing like chocolate made from scratch. The 3-ounce bar is made with certified organic ingredients. It features dark chocolate is crafted with fair trade cocoa beans, pure sugar, cocoa butter, and ground vanilla beans.
That's right: the bar contains no milk or butter. Not only is it vegan, but it's also soy-free and Kosher. Although the chocolate is made in Seattle, the base ingredients provide a living wage for farmers in the Democratic Republic of Congo.
If it sounds tasty, check out the brand's other vegan offerings including dark chocolate coconut bites, salted almond dark chocolate, and dark chocolate peanut butter cups.
Swiss Miss Indulgent Collection Dark Chocolate Sensation Hot Cocoa Mix
We hope that Swiss Miss inspires other hot chocolate brands to use dark chocolate. (Nestlé does, but we prefer this brand because it contains less than 0.1 percent caffeine and each packet is only 150 calories).
This hot cocoa is unbelievably full-bodied even though it only requires water. Moreover, it's preservative-free and gluten-free.
Inside each box, there are 8 individual servings of powdered hot cocoa mix. It's easy to sip on one mug per day to fix those chocolate cravings.
Dark Chocolate Covered Walnuts by Superior Nut Chicago
Do you still have a sweet tooth after dinner? There's no need to feel guilty about munching on a couple of these chocolate-covered walnuts. First, we've already discussed the benefits of dark chocolate for babies and mamas. And second, walnuts are one of the best nuts for pregnancy. They contain omega-3 fatty acids that are crucial for neural development in fetuses and heart health for mothers, too.
These nuts are extremely satisfying and delicious. What's more, they have a special glaze that keeps them from melting in your hands (at least for a little while). The nuts are made with six simple ingredients and no preservatives or artificial additives. The principal ingredients, of course, are walnuts and 64% dark chocolate.
Each sodium-free serving provides 3 g of protein, making them energy-rich and, dare we say, nutritious.
Godiva Milk Chocolate Cashews
Cashews are one of our favorite nuts because they are sweet. They are the perfect counterbalance to dark chocolate. And when Godiva combines cashews and dark chocolate, oh my! We're talking about a perfect balance of sweetness and crunch.
Don't be surprised if these yummy treats don't last long. They come in a 2-ounce bag. If you ate the whole thing in one sitting, it has 330 calories with 18 g of sugar.
By the way, cashew nuts are excellent during pregnancy because they have essential nutrients like zinc, potassium, and omega-3.
Conclusion
Life is hard. Eat more chocolate. Seriously, dark chocolate is good for pregnant women and babies in the womb. It has nutrients that promote healthy development as well as a positive mental attitude. A little dark chocolate can lift your mood and you might end up with a happier baby, too.
We hope we inspired you to try something new today. If you love the dark chocolate we reviewed, we'd be thrilled to hear from you. Feel free to leave a comment below. Your insight might help someone make a difficult decision between all these yummy chocolates.
Sources:
1. https://www.babycenter.com/pregnancy/diet-and-fitness/is-it-safe-to-eat-a-lot-of-chocolate-during-pregnancy_1245156 Is it safe to eat a lot of chocolate during pregnancy? by Karen Miles, Medically reviewed by Melinda Johnson, MS, RD, dietitian, published June 9, 2021
2. https://www.healthline.com/health/pregnancy/chocolate-when-pregnant#benefits-for-baby Can I Eat Chocolate When Pregnant? Research Says 'Yes' — in Moderation, medically reviewed on June 17, 2020