Imagine a beautiful, tender mini soul being brought into your life after nine months of growing and nurturing. Isn't that wonderful? Indeed this adventurous process helps you appreciate nature's gift.
However, people say, "nothing good comes easy". The transformation of the woman's body during pregnancy has many effects on different human systems, and melasma is one of the most common transformations. Identifying Pigmentation during pregnancy and the Pregnancy-safe melasma treatment on your body can help you overcome this modification.
What is Melasma?
Melasma, also known as a pregnancy mask, is a skin-darkening disorder that gives a blotchy spot due to excessive pigment production. Areas likely to have this skin disorder are the forehead and cheek, usually places where the sun directly fixates.
Usually, women with dark skin color are prone to have melasma compared to those with light skin. This is a result of the dominant melanin pigment produced by dark-skinned women.
This is nothing to be worried about because it does not affect the child in any way. And it gradually goes away on its own after childbirth. Though some people experience Melasma after pregnancy, it all eventually leaves.
Is it normal to have melasma during pregnancy?
How your body transforms with time during pregnancy similarly affects your entire physical looks; this can come with melasma which is not a big deal. For some, it could be acne breakout, rashes, bumps, Dark spots on face during pregnancy, etc.
Does Melasma go away after childbirth?
Yes, the changes that occur during pregnancy are bound to normalize after childbirth. Some persons after childbirth opt for a hydroquinone treatment for Postpartum melasma, while some go for Home remedies for melasma.
Causes of Melasma
Melasma which occurs due to excessive secretion of melanin from the skin does not have a distinct cause. However, factors trigger this occurrence in the body during pregnancy. Melanin is present in every human being but in different quantities depending on skin color variation.
Some parts of the body with minute melanin, such as the nipple, genital, and armpit, can be conspicuous while pregnant. Dark skin pregnant women have more tendency for hyperpigmentation compared to those with light skin. Factors that can escalate melasma during pregnancy include;
Hormonal changes in pregnant women due to excessive production of progesterone/estrogen, which is responsible for fetal development. This effect can develop into melasma.
Lifestyles such as cosmetic applications, medications, and birth control pills might contain synthetic hormones, which can risk skin disorders during pregnancy.
People who live in a tropical climate are prone to be affected by melasma due to sun exposure. These sun rays hit the skin and cause hyperpigmentation.
A person with a melasma history has an increased risk of having the disorder, although it's not genetically inherited.
How to Prevent Melasma
Hyperpigmentation which results in melasma, can be prevented to avoid getting worse. Some measures can help you reduce pigmentation.
Use sunglasses to limit the skin from exposure to UV rays and light cosmetic products or skin to avoid irritation and clogging of pores.
Eating healthy food at the right time can also help fight against diseases that may trigger melasma. You can also find the best cream for melasma during pregnancy.
Best Melasma Treatment Product
Why we love them
Neutrogena vitamin C complex serum

Helps to clear dark spots and discoloration
Suitable for all skin types
Helps reveal younger-looking skin
Improve skin's radiance and clarity
Contains powerful ingredients that fight skin dullness, fine lines, and wrinkles

Eucerin Anti-Pigment Reducer Night Cream

It serves as an exfoliant for the skin
Readily affordable
Cutaneous tolerance and brightens skin
Reduces the skin's melanin production from the source
Reduces pigment marks of the outer layer

Paula's Choice facial exfoliant

Removes wrinkles, blackhead, and fine lines
Unclog pores and soothes skin
Designed for radiant, youthful, even-toned skin
Dramatically improves skin texture
Mimics natural exfoliation processes

EltaMD UV Clear SPF 46 Face Sunscreen

Serve as sunscreen shield
Suitable for sensitive skin
Has anti-aging properties
Protects and calms even the most sensitive skin
Contains key ingredients for the appearance of good and healthy-looking skin

CeraVe Vitamin C Serum

Non-greasy and absorbs into the skin fully
Vitamin C present gives even skin complexion
Helps to improve skin hydration for a radiant and healthy-looking complexion
Absorbs into the skin properly

Naturium vitamin C Complex Face Serum

Enhances collagen production on the skin
Brightens the skin and clears spots
Shields the skin from environmental stressors
Formulated with potent natural ingredients

AOBBIY Hyperpigment Remover

Dark spot removers and repairs damaged tissue
Reduces hyperpigmentation
Made with non-toxic-to-skin advanced science
Directly absorbed across the skin barrier by the cells
Great and effective formula combination for dark spots remover

Crepe Eraser Restoration Facial Treatment

An ultra-hydrating and luxurious facial treatment
Trufirm complex and olive oil are natural collagen producers
Contains antioxidants that work to remove discoloration and patches
Helps to recondition delicate skin on the face and body in general

PCA SKIN

The active ingredient contained illuminates the skin
Help to brighten discolored skin
Reduces hyperpigmentation and clears the spot within 1 week
Helps to restore an even skin tone
Treatment of Melasma during pregnancy
It is most recommended that lifestyle changes are the best treatment practices that help treat melasma during pregnancy as it gradually fades away in time. However, it is necessary to see a doctor to know the best treatment measures suitable for you during pregnancy as skin type differs from the individual.
This is done to prevent allergic reactions on the skin due to treatments incurred. For some, your doctor may recommend laser treatment or synthetic peels. A dermatologist would help examine your skin type and direct you on the treatment procedures to embark on.
Here are the possibly best products for treating melasma.
Neutrogena vitamin C complex serum
This product has an amazing effect on skin repairs with the presence of retinol and vitamin C, which helps to clear out dark spots on the face. Although it is best suited for dry skin, it gives an even toning to the entire body.
Say goodbye to skin discoloration with its active ingredient keeps your skin hydrated and brightened, effectively suitable for all skin tones. It helps prevent sunburn when applied mildly. Also perfect when worn under makeup; it acts as a face primer.
It can be heavy when applied to the face, avoiding eye contact.
Eucerin Anti-Pigment Reducer Night Cream
Melanin pigment-reducing cream is worn at night and helps to brighten and smoothen the face. The presence of an active ingredient aids cutaneous tolerance. Glycyrrhétinic acid is responsible for this stimulation and brightens the skin evenly.
It can also be used as an exfoliant for the affected area to help the skin heal properly. Serve as an anti-aging cream also for a finer texture. It's contained in a 50ml container and is readily affordable. Apply only on the melasma area to avoid lightning other areas of your body that's unaffected by melasma.
Paula's Choice facial exfoliant
The perfect exfoliant for your skin. With Paula skincare, you are safe from the harshness of the weather. Containing 2% of BHA helps remove blackheads, fine lines, and wrinkles. It is suitable for delicate skin and helps tone it, giving it a radiant look. The active ingredient contains plant products and is soothing for all skin types.
An essential benefit of Paula's choice of exfoliant is it helps unclog and minimize pores in the skin and remove dead cells improving skin texture. The skin's pores are the medium of exchange and must be kept healthy.
It is advisable to use sunscreen while using the product.
EltaMD UV Clear SPF 46 Face Sunscreen
Ultimately known for its sun shield. The EltaMD UV is worn to protect the face from harsh light by reflection. Suitable for sensitive skin, lightweight and oil-free lotion is perfect for blending on the face. The SPF 46 has niacinamide, an anti-aging ingredient that clears fine lines. It has no perfume and is very light when worn.
CeraVe Vitamin C Serum
It's the soothing hydrating serum that contains hyaluronic acid, improves skin texture, brightens skin, and has an unscented, purest form of vitamin C. These vitamins help to give an even look to your complexion and perfect your skin tone.
The serum comes in a light, non-greasy gel when applied to the face; this enables it to fully absorb perfectly into the skin and work excellent for radiant skin.
The essential ceramides in the ceraVe serum aid in rejuvenating skin and maintaining skin barriers. No need to worry as you age because it renews the lipids in your skin. Dermatologically proven for all skin types.
Naturium vitamin C Complex Face Serum
Naturium serum contains natural and synthetic ingredients compatible with every skin type. It is a skin glowing serum that increases collagen production to enhance skin texture.
It's a skin shield used to protect against hyperpigmentation. It brightens and gives an even complexion by removing dark spots by replenishing essential moisture from the skin.
AOBBIY Hyperpigment Remover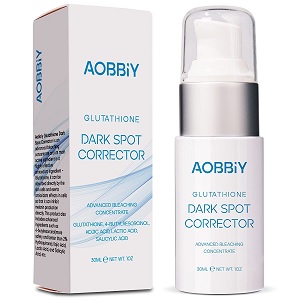 This is the best dark spot remover which helps to reduce hyperpigmentation and enhance skin elasticity. Also helps to reduce melanin production on the skin.
The presence of an active ingredient, Glutathione, is an effective formula composition for dark spot remover and repair of tissue damage. It can be used to treat the face and other body parts with dark skin pigmentation.
It contains antioxidants that reduce skin discoloration and makes your skin smooth and glowing.
Crepe Eraser Restoration Facial Treatment
Amazing facial moisturizer helps to treat damaged skin, such as discoloration, dark spots, and wrinkles. Gently massage the face until it is absorbed into the skin. Suitable for all skin types, proven by dermatologists.
This hydrating formula helps to rejuvenate skin. The active ingredient Trufirm complex and olive oil are natural collagen producers, antioxidants work to remove patches on the skin, and cocoa butter strengthens the skin structure.
PCA SKIN
It is a free hydroquinone serum that helps correct skin spot patches.
It also serves as an antioxidant for skin damage resistance. Clears spot effortlessly and reduces hyperpigmentation within a short time when you commit to using it daily. Also, help to correct sun skin damage.
Conclusion
Suppose you want an attractive skin tone during pregnancy and avoid hyperpigmentation that would lead to melasma. The best practices above can help you have an amazing motherhood journey without worrying about how to manage your skin perfectly.
Healthy lifestyle measures are necessary to help you look stunning and keep your skin popping during your preggy days.