It's surprisingly easy to become dehydrated when you're pregnant. In the beginning, it's morning sickness that makes it hard to keep food and liquids down. Months later, you might be tempted to skip that extra glass of water because it's only going to send you back to the bathroom again.
Although it's common to have trouble drinking water during pregnancy, at least you're not limited to only water (unless your doctor says so). Liquid from milk, juice, fruits, and vegetables can help make up for a lack of H20. Dehydration only happens when your body loses water faster than you can take it in.
What's the big deal about not drinking enough liquid while you're pregnant? Well, water makes up the amniotic fluid that cushions the baby in the womb. Without enough water, the baby may not get enough blood supply and nutrients, putting the baby's development at risk. Also, you might go into premature labor and be unable to produce breast milk. Those are a lot of downsides to a problem that's easy to avoid (1).
Let's talk about dehydration during pregnancy: symptoms and tips for prevention.
Symptoms of dehydration during pregnancy
If you're thirsty, you need to rehydrate. Don't put off picking up a glass of water. Ideally, if you sip on water throughout the day, you may never feel thirsty and you won't have to worry about becoming dehydrated.
Mild dehydration
But there are other symptoms to watch for. For example, a sticky, dry mouth means you're running low on water. Weirdly, feeling extra tired, dizzy, overheated, or headachy are signs of dehydration, too.
Moreover, not needing to pee and being constipated can also indicate you need to drink more liquid. Check the color of your urine. If it's clear or very pale yellow, you're probably okay.
Mild to moderate dehydration with these symptoms can be fixed pretty quickly. All you need to do is drink extra water and you'll start feeling better.
The goal is to consume 8 to 12 glasses of water per day, or more if you're sweating a lot or breastfeeding. How big is a glass? It's 8 ounces, so 8 cups of water would be 64 ounces or a half-gallon.
Severe dehydration
If you're severely dehydrated, chances are you'll be in no condition to recognize it. Not only will you be extremely thirsty and have a very dry mouth, but you're also likely to be confused and experiencing a rapid heartbeat, low blood pressure, and fast breathing. Your urine (if you can even pee) will be dark yellow or worse. If someone were to pinch your dry-looking skin, it wouldn't bounce back very well.
If you're experiencing this level of dehydration during pregnancy, this is when you need to go to the hospital.
Please avoid severe dehydration because it's no fun to get hooked up on IVs and feel terrified for your baby and yourself. The solution is super simple: drink more water. And if you have a health issue that prevents you from drinking extra water, we bet your doctor will have ideas to keep you safe.
What are two tips for preventing dehydration?
How can dehydration be prevented and treated? It's not just drinking enough water. If you're in a situation where you can't drink more water, you can try to ward off dehydration by resting in a cool place.
You can also eat juicy foods like watermelon, strawberries, and oranges. Even vegetables like carrots, lettuce, and celery contain a small amount of water. You may also enjoy yogurt or cottage cheese.
If plain water is hard to drink, try skim milk or almond milk. You can also add a few drops of lemon juice, a little honey, or a sprig of mint to make the water taste better. Even putting ice in the water might make all the difference.
As tempting as it is to have a Coke or a coffee, remember that caffeine will probably make you pee more and end up losing fluids.
How to prevent dehydration from morning sickness
They may call it "morning sickness", but we all know that it can strike any time of the day or night. Try sucking on ice cubes instead of drinking liquid to avoid triggering vomiting.
Instead of drinking with a meal, drink between meals and you may find that you have less indigestion.
How do you know if you're dehydrated?
If you don't feel thirsty, your skin's not dry, and your urine isn't dark, you might not think that you're dehydrated.
Still, you have another way to tell. It's called bioelectrical impedance analysis. Your bathroom scale might already use it to measure body fat and water percentage. Studies show that it's safe to use a tiny amount of electrical current to keep track of weight gain during pregnancy. However, you should discuss your situation with your doctor (2).
Etekcity Apex Smart Scale
This is one of the easiest ways to test for dehydration in pregnancy. This smart scale measures water mass, bone mass, BMI, weight, and more. You'll see at a glance if your body has a high enough percentage of water. (The normal amount for women is between 45 and 60%. Meanwhile, babies are about 75% water!)
On this scale, the Baby Mode setting allows you to track your child's growth. It can save various profiles so that everyone in the family can use it. It even syncs with your phone and obeys voice commands through Alexa.
It's rechargeable, but it uses such low power that one charge can last up to 6 months. No wonder it won the RedDot Design Award.
Who should not use this scale? Anyone with a pacemaker or defibrillator should probably avoid it. Bioelectrical impedance analysis sends a weak current of electricity through the body to measure water, fat, muscle, and so on. Although this technology has been used during several research studies involving pregnant women, it's still wise to double-check with your doctor.
How can you rehydrate quickly?
If it's been a rough day, just drinking water might not be enough. Just like pro athletes, you might need to rehydrate with an electrolyte solution.
Amazon Basic Care Advantage Care Plus Electrolyte Solution
Hot weather, morning sickness, and exercise can dehydrate your body. Water alone might be enough to restore the balance. Or (if it's okay with your doctor) you can rehydrate with electrolytes. They are minerals with an electric charge that keep the body functioning properly.
If you've ever had Powerade or Gatorade, you've had electrolytes. The same goes for children who've had Pedialyte. But all of those are kind of pricey compared to this electrolyte solution for kids and adults. It refills sodium, zinc, and water levels in the body just like all the name brand products do.
Moreover, it's available in various tasty flavors like Iced Grape, Blue Raspberry, and Mixed Fruit. Each serving only has 9 g of sugar.
Tricks for staying hydrated during pregnancy
Our editor is one of those "out of sight, out of mind" people. She keeps a water bottle on her desk to remind her to sip throughout the day.
Here are our favorite products for staying hydrated. They make sure we always have water when we need it.
Iron Flask Sports Water Bottle
This stainless steel water bottle comes in a rainbow selection of colors. It's available in various sizes ranging from small to huge, plus it's double-wall insulated to keep drinks hot or cold for hours. The outside doesn't even get sweaty.
Each bottle comes with a leak-proof lid and a straw. Everything is BPA-free and backed by a satisfaction guarantee.
TETON Sports Oasis Hydration Pack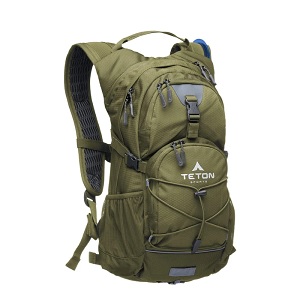 The well-known Camelbak hydration pack isn't as affordable as this brand. We prefer this hydration backpack because no one needs to know that we're walking around with water bladders on our backs.
The soft bag that holds the water hides inside a regular backpack with room for daily necessities. The bladder has a screw-top opening that's big enough for ice cubes. Since it holds two liters of water, it meets the 8-glass requirement.
The water container is silicone-based and BPA-free. It comes with a sipping tube with a bite valve. If you fill it to the top, it weighs under 5 pounds. Since it's housed inside a backpack, the whole thing is pretty comfortable.
Sahara Sailor Water Bottle
This cute and colorful bottle holds 32 ounces or 4 cups of water. It has markings down the front to remind you when it's time to drink more. Depending on the design of the bottle, there are also motivational sayings.
Why only 32 ounces when the recommendation is 64 per day? Well, not everyone wants to haul around a half-gallon of liquid when they can refill the bottle at lunchtime.
Also, compared to the Iron Flask, this bottle is lightweight and transparent and comes with a carrying strap. Thankfully, it's also non-toxic and BPA-free. The Tritan polyester plastic is odorless and has flavor.
At the end of the day, you can pop the bottle in the dishwasher. It also comes with a scrub brush in case you want to wash it by hand.
Hidrate Spark 3 Smart Water Bottle
What does this 20-ounce smart water bottle do? It has an internal sensor that makes the exterior light up at intervals to remind you to drink. It can also sync with your phone over Bluetooth so you can track how much you've been drinking. (And the app also allows you to find your bottle if you misplace it).
What's also nice is that not only is the bottle available in various colors, but it also allows you to change the light pattern of the reminders. The whole bottle glows when it's time to take a sip.
We love the fact that it comes with a replaceable, not a rechargeable battery. It uses a cheap coin-sized cell. The package also includes a silicone sleeve that keeps the bottle from sweating.
If there's any downside it's that this is a water-only bottle. Any other liquids might damage the sensor.
Philips Water GoZero Self-Cleaning Smart Water Bottle
You know how sometimes water bottles end up smelling gross? This one cleans itself with UV light. Every two hours it automatically disinfects the water and bottle to kill germs and prevent odors.
One charge keeps it working for about a month. And this is a stainless steel, double-walled, vacuum-insulated bottle that can handle either hot or cold drinks. You're not limited to water only. No worries, the disinfection process won't harm the flavor. It only kills bacteria and viruses.
The brand offers a 30-day satisfaction guarantee and a 2-year warranty. Choose from various colors, all of which are dishwasher-safe (except for the bottle cap).
Sources:
1. https://www.healthline.com/health/pregnancy/dehydration Symptoms of Severe Dehydration During Pregnancy, Medically reviewed by Michael Weber, M.D. — Written by Jessica Timmons on March 2, 2016
2. https://pubmed.ncbi.nlm.nih.gov/34441305/ Obuchowska A, Standyło A, Kimber-Trojnar Ż, Leszczyńska-Gorzelak B. The Possibility of Using Bioelectrical Impedance Analysis in Pregnant and Postpartum Women. Diagnostics (Basel). 2021 Jul 30;11(8):1370. doi: 10.3390/diagnostics11081370. PMID: 34441305; PMCID: PMC8391189.