It's pretty much a given when you're pregnant to have swollen feet and legs. Not only are you going through hormonal changes, but your body is retaining more fluid. As your baby grows, she will put more pressure on your veins, and that keeps blood from returning to your heart quickly. These are the factors that cause swollen legs during pregnancy (1).
When should you be worried about swelling during pregnancy? If the swelling gets worse suddenly or if it seems excessive, it could be a sign of preeclampsia. This is a serious complication that has to do with high blood pressure. If you don't get help for it, it can cause seizures, organ damage, and death.
Equally bad, if one side swells and the other doesn't, it could be a sign of deep vein thrombosis. Get medical attention immediately (2).
Stay in close contact with your OB/GYN to monitor your blood pressure and swelling to make sure everything is going normally.
In the meantime, let's talk about home remedies for swollen feet during pregnancy. We have tried and true tips for how to reduce swelling in legs and feet during pregnancy.
How to reduce swelling in your legs and feet while you're pregnant
The number one way to prevent swelling is to stop standing for long periods of time. Being vertical allows the blood to pool in the lower half of your body. Instead, take rest breaks and elevate your feet above your heart if possible.
But taking time to lay down or sit down doesn't mean that you should stop moving. Instead, a little physical activity throughout the day can keep the blood circulating and prevent or reduce swelling. Go for a walk or a swim, do yoga, and stretch those leg muscles.
Spending time in the pool is especially nice because the pressure of the water helps keep the feet and ankles from swelling.
At night, sleep on your left side to relieve pressure on the vena cava, a large vein that returns blood to your heart. Then, during the day, wear compression stockings to minimize swelling and improve blood circulation.
But if you're wearing compression socks, avoid the ones with tight bands on the calves or ankles as they can cause a bottleneck and increase swelling. As much as possible, wear clothing and shoes that don't constrict your body.
Doc Miller Open Toe Compression Socks
Before you purchase compression socks, please talk to your doctor. We want you to get the best fit for your needs. Not only are there different levels of compression, but there are also different styles to choose from. Here's one example that's popular with pregnant women.
Not only do these compression socks alleviate swelling, but they also help prevent varicose veins. Unfortunately, a significant percentage of expectant women end up with varicose veins, especially with each additional pregnancy.
These socks provide graduated support to keep the blood flowing without putting too much pressure on the legs. They have open toes so you don't feel cramped. The design also makes them a little easier to pull on.
Plus, you can continue to enjoy them after giving birth since they are designed for sports, working, and everyday use.
They offer 15 to 20mmHG compression as they are made from 77% medical-grade nylon and 23% spandex. Choose from various colors in sizes small to extra large/tall.
New Balance Women's FuelCore Nergize Sport V1 Sneaker
While you're at it, it's a good idea to upgrade your sneakers. Remember that the pregnancy hormone relaxin will loosen the ligaments and tendons in your body so you'll probably end up with wider, flatter feet. You may need new shoes soon regardless.
Besides, proper arch support and cushioning help relieve leg, back, and foot pain. Don't memory foam insoles sound wonderful right now?
Since these are slip-on sports shoes, they are perfect for when bending over becomes difficult. Plus, they are affordable and they come in a variety of colors. Wear them on your daily strolls to keep your blood circulating and reduce swelling in your legs and feet.
New Balance is known for making wide widths that are comfy for swollen feet. However, pay close attention to the size. These are "performance fit" so you'll want to go up a half or a full size.
HOFISH Women's Maternity Pants
Earlier, we mentioned non-restrictive clothing. This may mean relinquishing your underwire bra for a few months in favor of a wireless bra. It can also mean swapping jeans for stretchy pants. Not to worry, maternity pants aren't all ugly. Check out this pair with tapered ankles and side pockets that are actually big enough for a phone.
They are made with a breathable blend of polyester, cotton, and spandex making them comfortable for warm weather but not too prone to wrinkling. They have a crossover V-shaped waist that stretches with your belly as it grows.
The only downer is that they come in only dark and neutral colors.
Does hot water help swollen pregnant feet?
We mentioned spending time in the pool, but that's not a possibility for everyone. What about putting your feet in a tub of water? Will that reduce swelling?
Furthermore, should you use hot or cold water for swollen feet during pregnancy? We checked with an OB/GYN based in Utah who knows all about hot summers. She recommended using cool water to cover your feet and ankles – not hot, not cold, and not lukewarm. If it feels pleasantly cool on your wrist, it's perfect (2).
Why should you be picky about the temperature of the water? If it's too hot, it increases blood flow and can increase swelling. If it's too cold, it will constrict the blood vessels and increase swelling. In other words, go for the Goldilocks temperature and soak your feet for 20 minutes or so each day. Then elevate them above your heart when you're laying down.
HoMedics Bubble Bliss Deluxe Foot Spa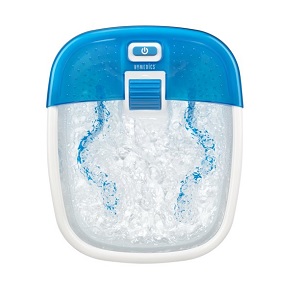 This foot spa doesn't heat the water. All it does is massage your feet with bubbles and the raised texture on the bottom. Therefore, if you fill it with cool water, you can enjoy a pleasant massage at the perfect temperature to reduce swelling.
After pregnancy, if you'd like to warm up your feet, all you need to do is add warm water. (On the downside, it's not made to handle Epsom salts or essential oils).
What's nice is that it comes with 3 different acupressure attachments that store inside the spa when you're not using it. And it's plenty big enough for up to size 14 feet.
What about massage for swollen feet during pregnancy?
Oops, we got a little ahead of ourselves with that foot spa, didn't we? We gave away the answer.
Yes, massaging your swollen feet might alleviate the swelling. If you have someone who knows reflexology, it might be helpful, too.
Even if getting a foot rub doesn't make the swelling go down, it feels good, so who cares? Try putting your feet up during or after the massage to maximize the benefits.
Does drinking water make you have swollen legs and feet during pregnancy?
If you have a medical limit on your water intake, that's a different situation. Otherwise, pregnant women need to drink about 10 cups of fluid per day. Cutting back won't make you swell less – instead, it might make you swell more. If you don't drink or eat enough liquid, it's harmful to the baby, too.
Of course, it can be complicated to drink that much water especially if you're nauseated. Try sipping on cool water in between meals instead of drinking with your food. That should reduce indigestion.
Another trick is to use a water bottle to keep track of how much water you've had.
Lastly, try eating juicy food like soups, yogurt, and fruit to reach that 10-cup goal.
Tree Tribe Stainless Steel Water Bottle
If you forget to drink enough water, having a water bottle could make all the difference. If you know how much it holds, it's easy to keep track of how much you drank.
This brand comes in various sizes all the way up to 1 liter (34 ounces). That's about half the water you need to drink each day while pregnant.
The bottle is vacuum-sealed, double-walled stainless steel. In other words, it's like a thermos. If you use it for hot ginger tea, it stays warm for 6 to 12 hours. Or if you prefer ice-cold homemade lemonade, it stays cool all day long.
It doesn't matter what you put in it because it doesn't feel hot or cold to the touch and it doesn't sweat. The design is leakproof with a silicone gasket in the lid. Toss a bottle in your bag and get on with your life.
What can I eat to reduce swelling during pregnancy?
Chat with a nutritionist or your doctor about the best foods to eat during pregnancy. Some foods are naturally anti-inflammatory or have a beneficial effect on blood circulation.
For example, green and leafy vegetables like kale, spinach, and collard greens are packed with antioxidants that reduce inflammation. They also have fiber to keep you regular.
Citrus fruits, tomatoes, and berries have a lot of polyphenols and antioxidants to protect against premature aging. Wild-caught salmon have omega-3 fatty acids for good heart health and your baby's brain development. Then, there are walnuts and almonds with even more essential nutrients for you and your baby (3).
Healthy food will help you cut down on swelling. Furthermore, avoiding foods like sugar, white bread, fried foods, sodas, red meat, and lard also reduces inflammation and keeps hormones on track.
What's the best way to rest to reduce swelling in the feet and legs during pregnancy?
After you've gone for a walk, there's nothing wrong with putting your feet up and resting. When you sit or lay down, try to keep your legs above the level of your heart. This is easier on the sofa, on the bed, or in a recliner. Don't put them so high that you get pins and needles – a couple of pillows should be enough. Just keep them elevated for 15 to 20 minutes.
If you spend a lot of time on your feet, take advantage of breaks to at least put your feet up on a stool or another chair. Any time you can keep the blood from pooling around your ankles it helps minimize swelling.
If you take a nap, lay on your left side to take pressure off the vein that carries blood from your legs to your heart.
DMI Wedge Pillow, Incline Pillow for Leg Elevation
If you have extra pillows, now's the time to use them to prop up your feet. But if you're tired of fiddling with them to get them in the right position, you might enjoy using a wedge pillow instead. This one comes in 6-inch, 7-inch, and 10-inch thicknesses. Each one is 20-inches wide to hold both legs.
It feels pretty firm but not hard. That's because it's designed to maintain its shape over time. It also has a machine-washable zippered cover.
Happily, it's not a waste of money because you can use it for back pain relief, preventing varicose veins, and managing restless leg syndrome.
Conclusion
If you're pregnant, it's common to have a little swelling in your legs and feet. The combination of surging hormones and fluid retention affects your body in noticeable ways. Later, as the baby grows, he'll put pressure on your veins and slow down circulation, too.
On the bright side, if you can rest with your legs up, it can relieve a lot of swelling. Soaking your feet in cool water or getting a massage is also beneficial.
It's smart to show your doctor how much swelling you're experiencing to make sure it's normal. If you swell up suddenly or excessively, get medical attention right away.
In the meantime, we hope we answered your questions today. If you have found solutions for relieving swelling during pregnancy, we'd love to hear from you. Feel free to leave us a comment below.
Sources:
1. https://www.mayoclinic.org/healthy-lifestyle/pregnancy-week-by-week/expert-answers/swelling-during-pregnancy/faq-20058467 What causes ankle swelling during pregnancy — and what can I do about it? by Yvonne Butler Tobah, M.D.
2. https://utswmed.org/medblog/swollen-feet-during-pregnancy/ 5 ways to manage swollen legs and feet during pregnancy, by Robyn Horsager-Boehrer, M.D. Obstetrics and Gynecology, published September 14, 2021
3. https://www.health.harvard.edu/staying-healthy/foods-that-fight-inflammation Foods that fight inflammation, published November 16, 2021