Expecting a baby? What better way to share the news than with a fun, cute t-shirt! There are so many creative and unique designs that make it easy for expectant mothers and fathers to express their excitement without having to say a word. From classic one-liners and puns to bold graphic prints, there's something for everyone looking for the perfect pregnancy announcement outfit. Whether you're planning a gender reveal, or just want to let your family know about the big news, here are some of the best maternity shirts to celebrate your pregnancy in style.
Best Maternity Shirts
New Years Pregnancy Announcement Shirt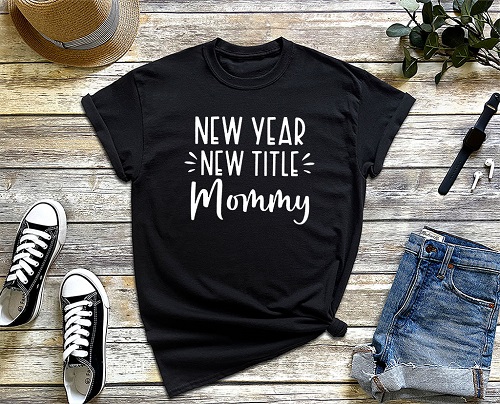 "New year, new title!" There are exciting changes coming for you, Mom!
These cheerful maternity shirts come in different colors, sizes, and styles. You can get them from extra-small through 4XL in unisex, women's, long-sleeved, and sweatshirts. All our designs can be printed on several colors including black, white, sport gray, maroon, navy, royal blue, and Irish green shirts.
They are made from soft fabric that is comfortable for everyday wear, so you can proudly show off your baby bump all throughout the holidays.
(Psst—you can get this design printed on a tote bag, too!)
New Years Pregnancy Announcement Shirt, Daddy Tote Bag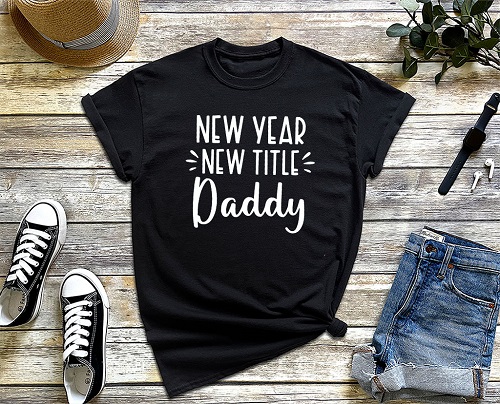 As the New Year approaches, expectant fathers can look forward to a new role: Dad! Now, soon-to-be fathers can announce their upcoming bundle of joy everywhere they go. These t-shirts for new dads will have everyone smiling.
Pregnancy Reveal Shirt or Tote Bag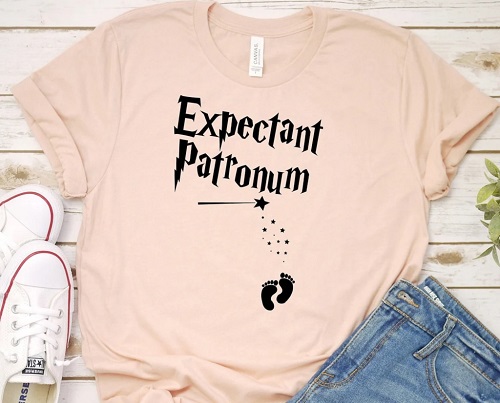 "Expectant Patronum!" is clearly a play on words for Harry Potter fans. This t-shirt announces the magic of new life on the way. Oh look, there are even little baby footprints like on the Marauder's Map!
If you love this design, get it printed on a tote bag. The bags come in two colors: natural and black. The canvas fabric is washable and reusable and just the right size for your wand and other Hogwarts necessities.
Maternity Shirt, The One Where I Become a Mommy, Mommy Tote Bag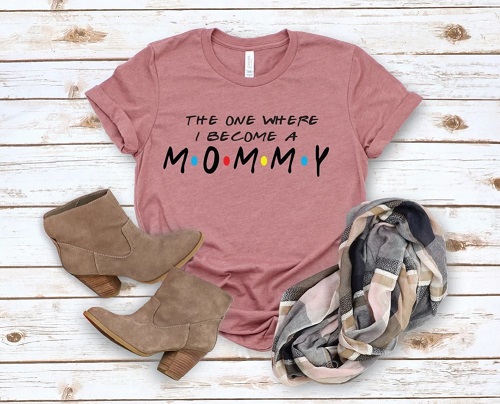 This fun t-shirt features an adorable graphic with a playful font and cheerful colors. It's an ideal way to tell the world you're expecting!
If you're purchasing this for someone else, it's not hard to get the right size. Check the size chart image and compare the measurements. You can even borrow her favorite tee and measure it to find the best fit.
Baby Loading Please Wait Shirt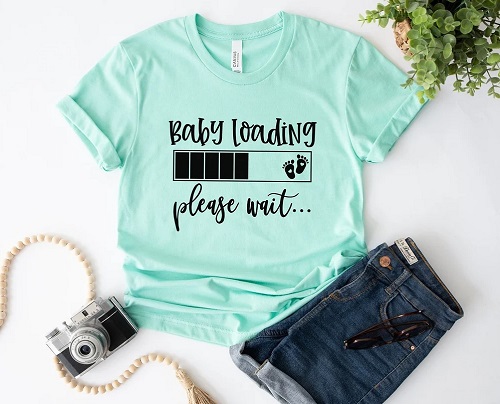 This smile-inspiring t-shirt announces the news without saying a word. It's great for taking photos to post on social media to share with family and friends.
If you're in a hurry to get this or any other t-shirt or tote bag from our shop, we ship within 2 business days. Every package comes with a tracking number, too.
Pregnancy Announcement Maternity T-Shirt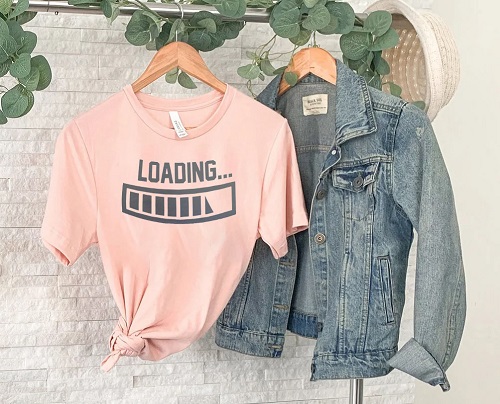 This version of the "baby loading" graphic is subtler without text. It keeps them guessing what you mean, whether you're pregnant or not! And after the baby is born, it's useful still. Just ask any sleepy parent of a newborn.
I Can't I'm Busy Growing a Human Shirt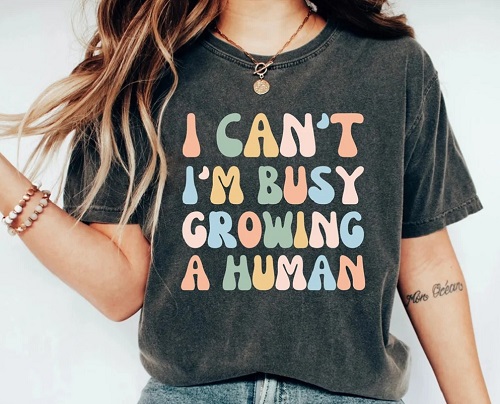 Nope, you're all booked up. The bold text shares the news that you're expecting and warns them that you have priorities. It looks great printed on black, but feel free to choose any of our other color shirts.
Yes I'm Pregnant Shirt, Mama To Be Shirt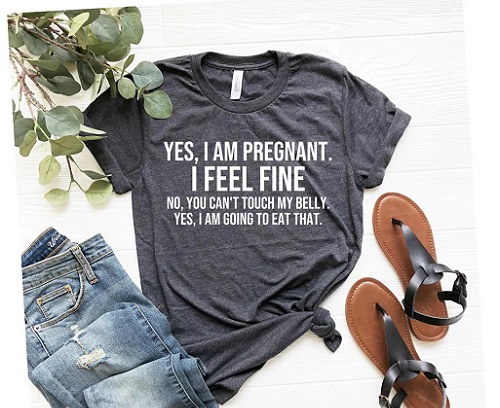 Pregnancy is a wonderful thing, but it can also be stressful. Many expectant mothers feel overwhelmed by the physical and emotional changes that come with pregnancy. But one thing that many pregnant women are adamant about is their right to decide when, where, and how people are allowed to interact with them and their unborn child. Maternity shirts with both funny messages and empowering slogans let people know the boundaries!
Excuse Me Is It July Yet Shirt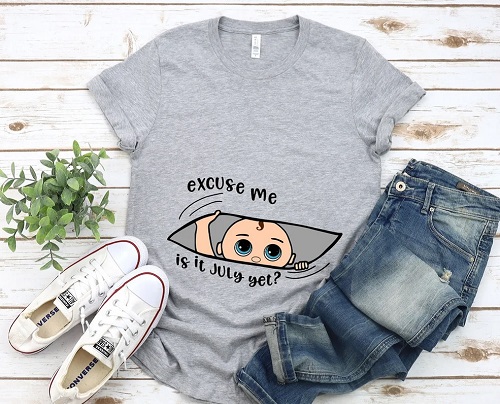 For those who can't wait for their due date to come around, check out this "Excuse Me, Is It July Yet" t-shirt with an adorable baby peeking out from the belly. It's a sweet way to let everyone know how much you are looking forward to meeting your new little one.
From Fur Mama To Baby Mama Shirt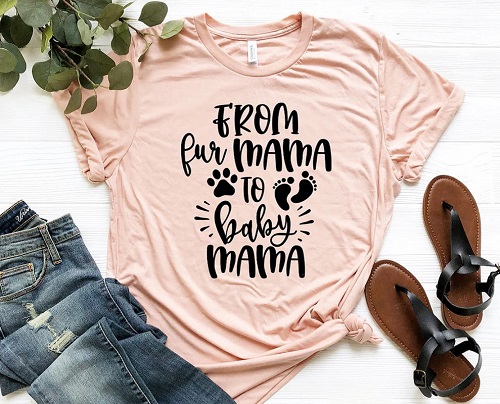 This one-of-a-kind design suits any dog lover who is expecting a baby. Show off your pride in both your furry and human children with this stylish shirt that stands out from the crowd!
Disney Vacation, Snacking for Two Shirt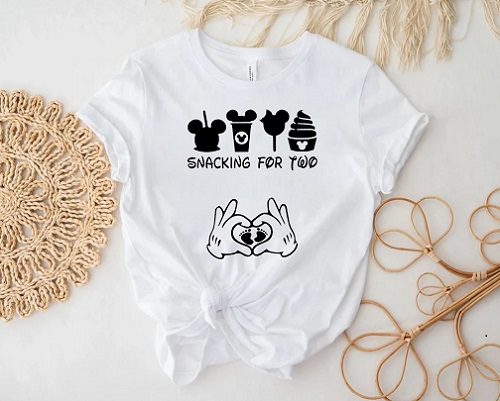 We've all made jokes about pregnancy cravings, but it's a real thing. Combine your favorites – food, baby, and Disney – with this funny design.
Mamacado Shirt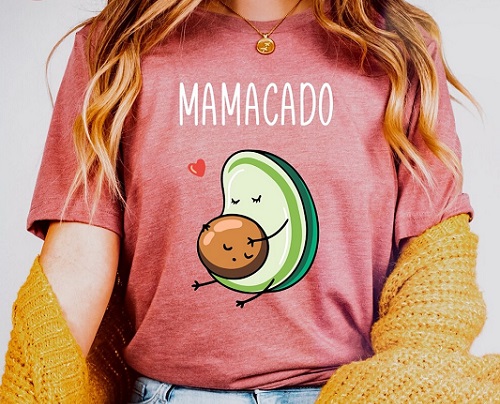 Everyone that sees it can't stop oohing over this delightful design. They love to see Mama avocado snuggling with her baby. The imagery conveys the joys of having children while also reinforcing the importance of nurturing and protecting them during their early years. It's a message that resonates with all parents.
Papacado T-Shirt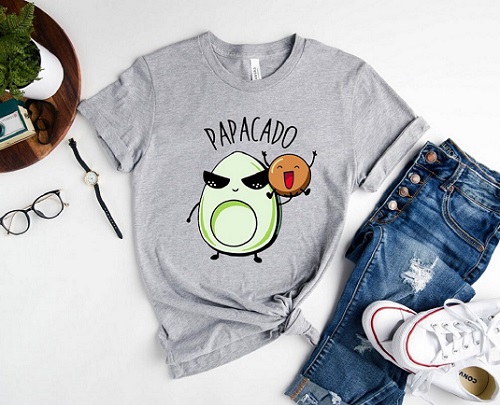 Here's the new daddy avocado proudly showing off the baby seed.
Pokemon Purple Egg Pregnancy T-Shirt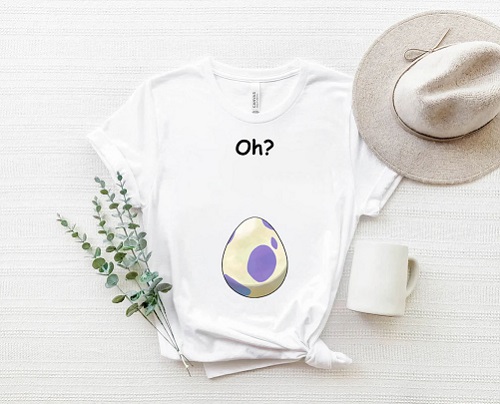 Here's the iconic Pokémon Purple Egg about to hatch. The t-shirt celebrates the excitement and anticipation that comes with parenthood. It symbolizes hope and new beginnings while being connected to the beloved world of Pokémon. It's sure to bring lots of smiles and laughs!
Baby Peeking T-Shirt, Christmas Pregnancy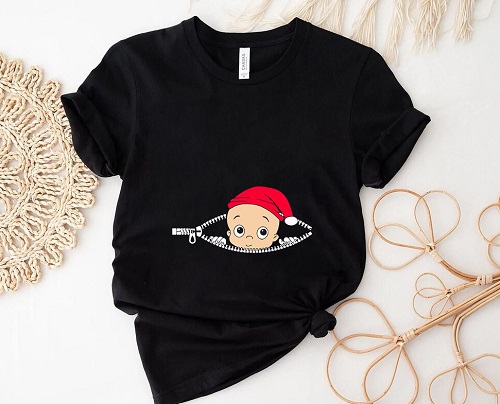 This holiday season expectant mothers can show off their growing baby and festive spirit all at once with a cute and clever design that is sure to turn heads at holiday gatherings!
Mommy to Bee T-Shirt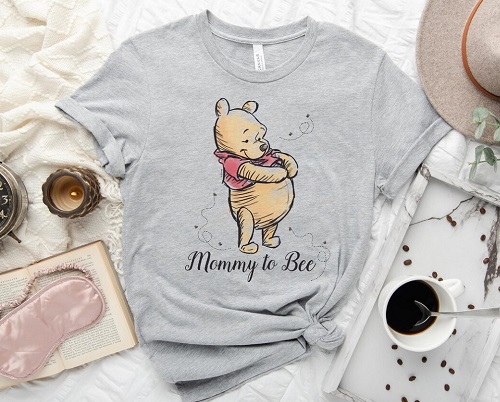 Everyone's favorite bear, Winnie the Pooh, is rubbing his full belly with a contented look on his face. With its lighthearted design, this T-shirt is sure to be cherished by any mom expecting her little bundle of joy!
Conclusion
These comfy maternity shirts are a great way to announce and celebrate your pregnancy. Whether you're looking for something funny or sentimental, you'll find a shirt that expresses exactly how you feel. The designs are the perfect conversation starters and ideal for sharing the news on social media. You can even find matching designs for Dad so the whole family can join in on the excitement.